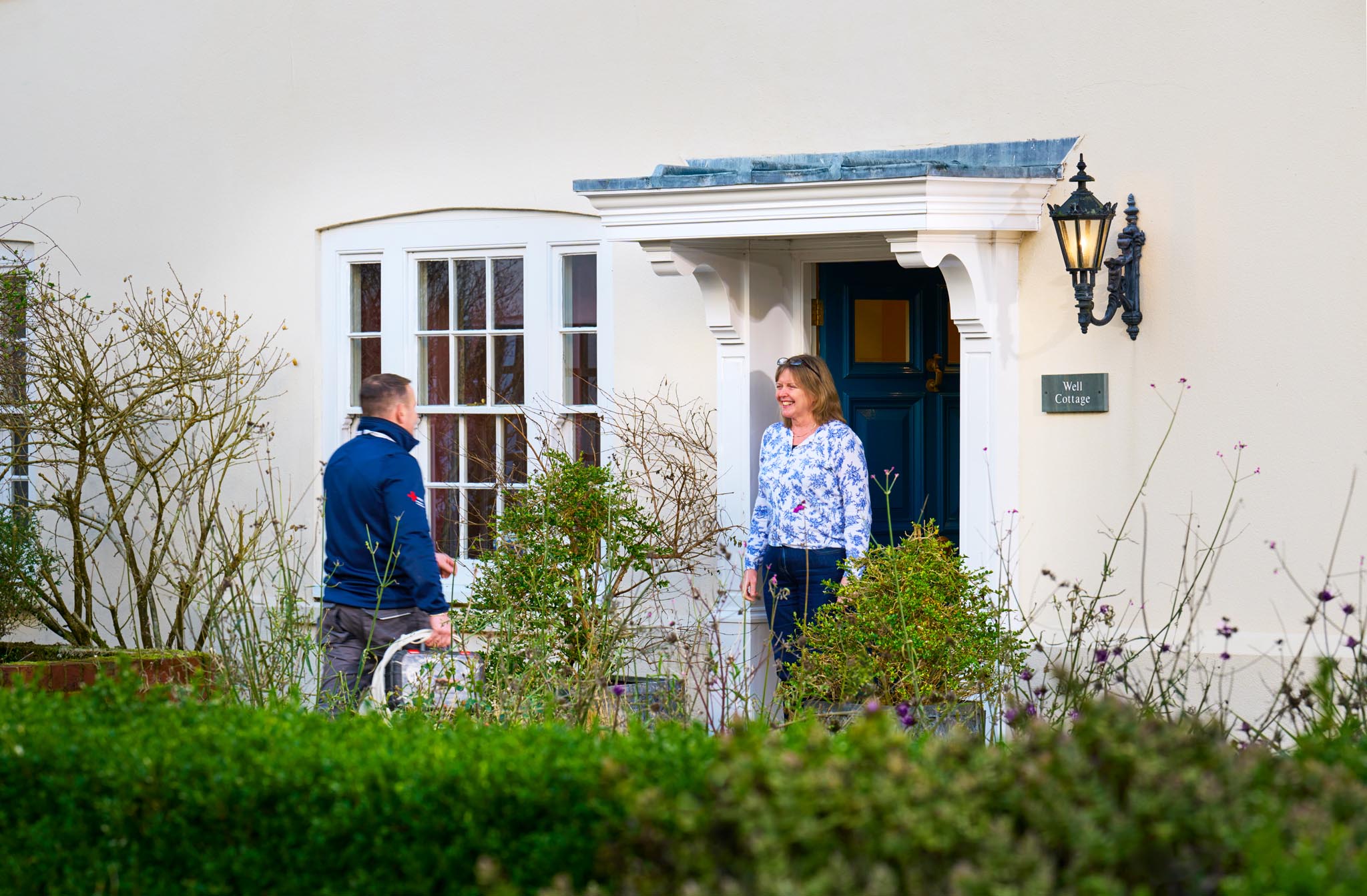 NICEIC Approved Electrical Contractors in Ashford, Kent
Here at Amptech Electrical Services, we dare to suggest that we are good at our job!  Happily, our customers overwhelmingly agree. But, for us, it's not sufficient just to be good at what we do. We seek to go much further – and that's all to do with our company ethos.
 Sure, we can get by with doing our work competently – but for us it has to be more than this. So, we set out in all that we do, to maintain our focus on our clients and their individual needs. For us, it's not about the short-term gain – it's about our open, transparency in our practice and our receptive approach to you and your needs – it's about bringing our knowledge, expertise and flair to providing you with the electrical service you need – it's about the art of the Can Do in unpredicted and difficult situations. And, at the back end of all this, of course, we need to demonstrate our efficiency and competence in the execution of the work we do.
We try hard, always, to project our ethos and hope that you will want to give us a try. You'll be pleased you did. . . Promise!
Get in touch with our friendly team who will be happy to assist with your enquiry…
7 Ways Hiring an Electrician Can Save You Money
When it comes to your electrical bill an electrician can help you to save money. This is how hiring an electrician can help your finances.
Do you need an electrician for a residential or commercial upgrade, repair, or installation? Or are you hoping to boost your home's energy efficiency to reduce utility bills? Sure, there are plenty of DIY tutorials online about electrical repairs, but that doesn't mean it is the safest way to handle them.
Hiring an electrician to complete any electrical work can cost more in the short term than a DIY approach. However, investing in trained professionals provides numerous benefits and often saves much more money in the long run.
Read on to find out how hiring an electrician can save you some hard-earned pounds and help increase your home or business's energy efficiency.
How Hiring an Electrician Saves You Money
Most homeowners and business owners wait until the last minute to hire an electrician, leading to frustration and increased costs. While we understand that hiring an electrician can seem like a costly investment, getting the services you need before it's a "big issue" can save hundreds, if not thousands, in the long run.
Don't believe us? Here are seven ways hiring an electrician can save you money on home electric costs or business electric costs, both short-term and long-term.
1. Performing an Assessment
Hiring an electrician to perform an electrical assessment on your property is a great first step towards optimising your home's (or business's) efficiency and saving money. This survey provides detailed knowledge about the condition of the electrics in your property, including the structure in your home.
The auditor will use electrical testing software to examine your electrical system.
2. Updating Electrical Components
Hiring an electrician to update outdated electrical components in your home can significantly reduce your energy bills.
As technology advances, we gain more efficient and energy-saving alternatives, such as LED bulbs and smart thermostats. By updating your outdated components, the electrician will ensure that your home uses the most efficient electrical appliances, ultimately saving you money.
For example, old wiring can be a fire hazard and increase energy consumption. Replacing it with new wiring can improve safety and cut costs. Dimmer switches can help control light bulbs' brightness, reducing energy use.
There are endless ways to update electrical components. The point is that hiring an electrician for upgrades can be a wise investment. It will help you save money and conserve energy in the long run.
3. Installing Modern Appliances
Modern appliances like energy-efficient dishwashers, washing machines, and refrigerators are designed to use less energy while providing the same functionality. This can help you conserve energy while reducing utility bills, making it a smart investment.
A qualified electrical company will help you choose the most suitable appliance for your needs and budget. Then they'll safely install the appliances for you.
4. Installing Modern Lighting
New lighting fixtures include energy-efficient LED bulbs, which consume 80% less energy than old incandescent bulbs. They also last longer, reducing replacement costs. Overall, lighting upgrades, such as dimmer switches, sensors and timers, can help reduce energy consumption and costs.
Moreover, upgrading your home's lighting can:
Enhance the look and feel of your interior decor
Improve visibility
Add value to your property
The best electrician can help you choose and install modern lighting. They should help ensure it suits your aesthetic preferences, individual needs, and budget.
5. Fixing Faulty Wiring
We've briefly touched on this within the other services. However, it's worth mentioning as a standalone benefit. Faulty wiring can cause:
Short circuits
Overheating
Fires
All of this can lead to severe property damage and personal injury. However, it's not just about safety. Correcting faulty wiring also helps reduce your energy consumption and utility bills since the wastage of electricity is reduced.
6. Reducing Phantom Energy
Phantom energy refers to the power consumed by electrical appliances when plugged in but not in use. Leaving your devices on standby mode may seem convenient, but it wastes valuable energy and needlessly increases your bills.
A qualified electrical company can advise you on reducing phantom energy by installing smart power strips. These automatically turn off power outlets when appliances are not in use. They can also help you identify and correct other energy wastage problems in your home or business to help you save money.
7. Making Use of Smart Technology
Finally, when you hire an electrician, they should be able to offer suggestions regarding smart technology. At Amptech, for example, we are Lutron UK specialists.
By incorporating Lutron's smart lighting solutions, we help our clients save money on energy bills while enhancing their home's aesthetic appeal. That's not the only benefit, though. We also provide a 12-month guarantee for all our Lutron control fittings and system maintenance work.
Guarantees like this are just another benefit of hiring an electrician. At least, they are when you hire an electrician at Amptech.
What's Included in Electrical Services?
It depends on the company you hire and their professional experience. Hopefully, the best electrician can tailor their services slightly to suit your needs. At Amptech Electrical Services and Solar Installers in Ashford, Kent, we provide various services to meet your needs.
Our experienced and certified contractors handle a wide spectrum of electrical services, including (but not limited to):
Installation of Lutron UK lighting solutions
Electrical certification
Emergency electrician services
This means we perform installations with accuracy and safety as our highest priority. Additionally, we provide regular maintenance and repair jobs to ensure our customers' systems function properly over time. We use cutting-edge electrical testing software and tools to do so.
For certification work, our team provides comprehensive documentation on the design and performance of electrical systems. Should you encounter any electrical problems or require emergency services, our expert electricians are here to help.
Need home electric services? Need commercial services? From electrical certificates to smart lighting, we've got you covered.
Hire An Electrician in Kent
Looking into hiring an electrician and aren't sure where to start? At Amptech Electrical Services and Solar Installers in Ashford, Kent, we are committed to helping you with all your electrical and solar needs.
Our experienced team provides quality initial installations, maintenance, and aftercare services. With a strong focus on customer satisfaction and reliable service, we guarantee you will be pleased with our work.
For more information or to schedule an appointment, call us at 01233 621509. You can also book an appointment or inquire more about our services by emailing us at james@amptechelectrical.co.uk.